Central Methodist
Pontefract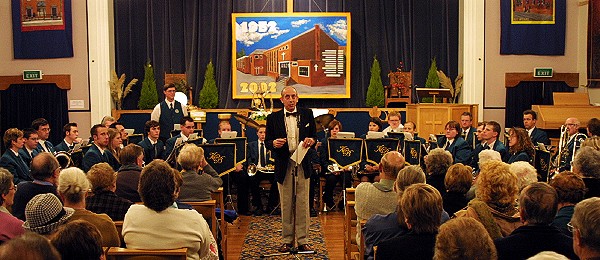 Graham welcomes everyone to the performance, with the band seated patiently behind, ready to start the concert celebrating 50 years of the Central Methodist Church in Pontefract. Band member names:
Left side
Back row

Karen Brewis (Baritone)
Alan Mcnaught (Baritone)
Nigel Bird (Euphonium)
Russell Simpson (Euphonium)
Mick Scott (Euphonium)
Ken McNaught (Standing) (Percussion)

Front Row

Chris Lewis (Cornet / Sop)
Rosie Yager (Flugal)
Chris Simpson (Horn)
Ben Wood (Horn)
Caroline Clay (Horn)
Matthew Chew (Horn)


Centre

Graham Dean (Conductor & Musical Director)


Right Side
Back Row

Steve Brewis (behind Graham) (Percussion)
Jon Baily (Bass)
Alistair Yager (Bass)
Martin Bird (Bass)
Lynn Pawson (Trombone)
Alex Higgins (Trombone) (Out of shot)
Martin Coates (Trombone) (Out of shot)

Front Row

Ian Dean (behind Graham) (Horn)
Emily Barrett (Cornet)
Jo Martin (Cornet)
Emma Renyolds (Cornet)
Jennifer Spencer (Cornet)
Simon Coates (Cornet)
Steve Jones (Cornet)
Kathryn Lee (Cornet)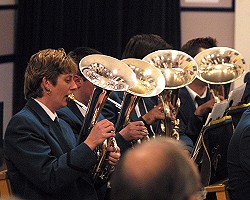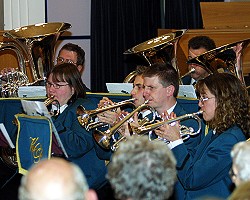 Left: Baritones and Euphoniums glisten in the lights of the hall, with Right: Basses playing behind some of the cornet players.

Graham Dean introduces the next item to the audience.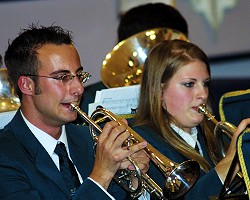 Left: Chris and Rosie in full flow, whilst Right: The trombones continue to be a favourite instrument of the audience.
---
A fuller review of this event can be found on our Past Events 2002 page.
---