Songs of Praise
Kirk Smeaton

The Band sets up at the end of the traditionally decked out marquee, just before the start of the Songs of Praise Style ceremony to celebrate the anniversary of Her Magisty's 50th anniversary of her succession to the throne.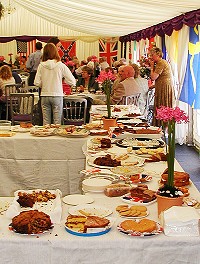 Following the ceremony, everyone was invited to help themselves to the magnificent buffet they had laid on for the event. Even the gannets in the Band where unable to polish off all the wonderful food, and believe me, several of us tried.
---
A fuller review of this event can be found on our Past Events 2002 page.
---