This year's Patrons' Concert toom the audience through a journey of time, location and emotions, as we played pieces ranging from a Spanish romantic piece, a Scotish Island, war in the Pacific, cowboys in the US state of Oregon and back closer to home to finish with an Irish dance piece. Plus there were plenty of other "stops" along the journey.
| | | | |
| --- | --- | --- | --- |
| | | | The second half of the concert opened up with the Bratwursts Oompah Band. But as soon as they had finished getting the audience singing and clapping along to their music, then Steve sprung a surprise presentation of a painting of the Band to Graham and Susan, for their tireless dedication to the Band over the 25 years that the Band has been in existence. |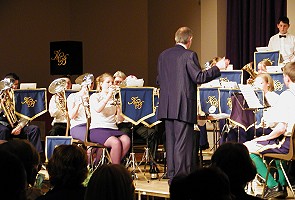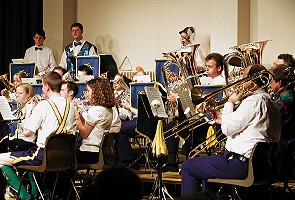 But then it was on with the show, to complete the "journey" and another successful Patron's concert.
---
A fuller review of this concert can be found on our Past Events 2002 page.
---