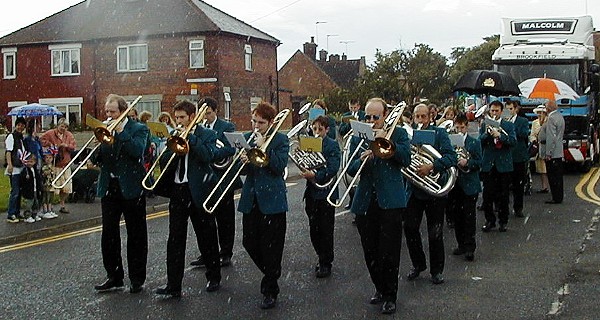 The procession lines up, the band is ready to play, the whilstle blows to start the procession - and the rain starts to pore!

However, the rain did not last for more than about 10 minutes, just enough to get us quite drenched, but it mostly stayed away for the rest of the procession. Keeping to the beat of the big bass drum, played by Steve, the Band led the procession around the streets of Knottingley.

As well as our Band, the procession was made up from a wide variety of groups, including two beautiful shire horses pulling the Samuel Smith's dray, a musical band of caveliers, stilt walkers, the funny Outspan orange car and several more traditional floats with scenes from the Bible, millennium gnomes, wild animals and much more.
---
A review of the procession can be found on our Past Events 2000 page.
---