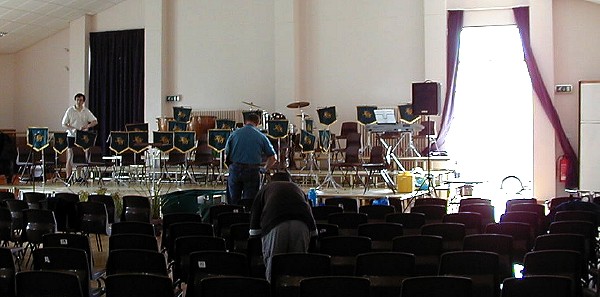 The start of a long day! Several band members gave up most of their Saturday to arrive early and start with the preparations in the main hall (above) with the stage, stands, instruments and general decorations. Further preparations were being done in the VIP reception area whilst several ladies worked hard in the refreshment room getting everything prepared for the big night ahead.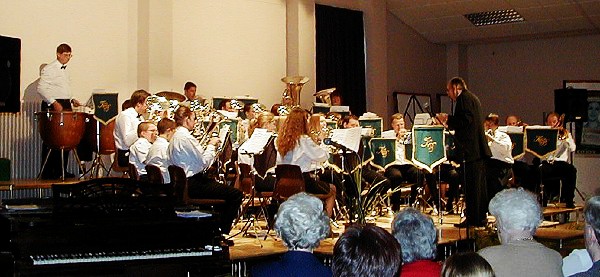 But before we new it, the audience were in and the show was under way! Starting in pitch blackness to create a moody atmosphere for our brand new piece specially for this concert, The Gael. When the lights came up, the Band could now be seen performing the first half in black bow-tie.

But it was not all Brass Band music, as we utilised the depth of talent within the Band. (Left) Her you can see Kathryn and Ruth singing a wonderful duet, and they were accompanied by Jennifer on the piano. (Centre) Rosie led the band on her recorder for the piece Gabriel's Oboe and followed that with two fantastic solo pieces again on the recorder, accompanied by Alistair, her father. (Right) Ruth returned to sing a solo piece this time, again with Jennifer at the piano.
Even when the full Band were in back action, we spot-lighted various areas of the Band, for example the trombone section, above.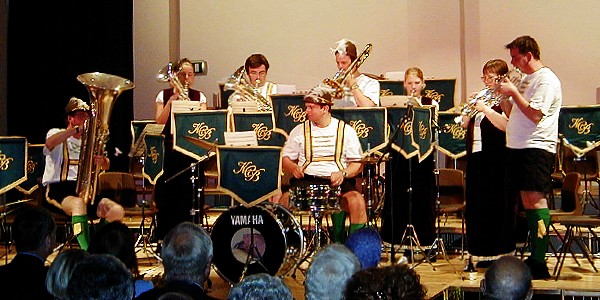 ---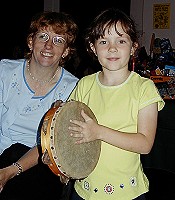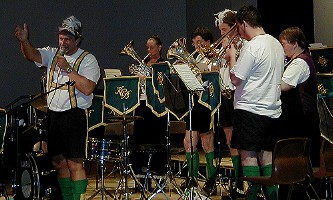 After the interval, our very own Bavarian Oompah band, The Bratwursts Opened the second half, in full costume. Led by Steve, he had the audience clapping and singing along to the music. To help them out, various percussion instruments were handed out to the children in the audience. Was it my imagination, or did they do a better job than the Oompah band!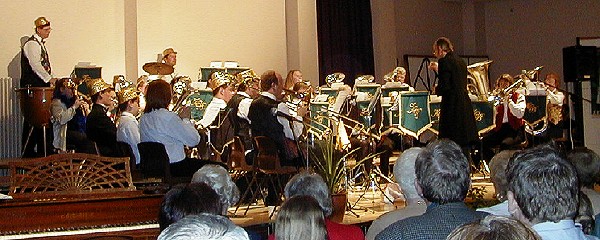 Then the full Band returned on stage. This time it was glitter hats, coloured bow-ties, fancy waistcoats or glamorous dresses and feather boas (for the girls!) to bring the Glamour & Glitz theme even more to life. The music was especially chosen to go with this theme, and so it continued until our rousing finale of New York, New York.
---
A fuller review of this concert can be found on our Past Events 2000 page.
---