---
Band Social Night - January 1999
The boys did it
The girls did it


We even did it as a group!
-- Karaoke!!! --
Yes, it was party time for the Band at last. It was our first social event since early in the previous year, and we all had a lot of party'ing to make up for, after all the hard work that had gone into making 1998 such a rewarding year.

So we all descended upon the large reception room in Knottingley Town Hall for an evening of various activities. There was a D.J. laid on, who brought along his Karaoke equipment. This had many of us up on stage performing a wide variety of pieces - with just as wide a variety of talents! There were current chart hits through to classics by the likes of Queen and Police. But the most important point is that we all enjoyed ourselves, no matter how good or bad the individual performance were.

Steve took centre stage to run a couple of general knowledge quizs during the evening, and there was a large buffet provided by all the Band members themselves. No-one went hungry that evening (in fact there was plenty left over for "doggy-bags" nor thirsty with a private bar at the back of the room selling drinks at sensible prices!. And in between all the activities, there were plenty of opportunities to get up and dance to the music: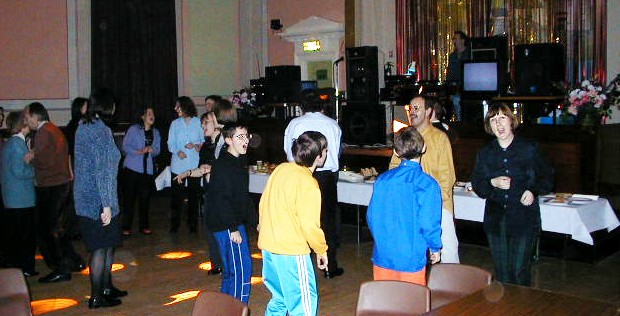 ---
---
Page updated: Friday 12th February 1999.