---
Yorkshire Outlet - March 1999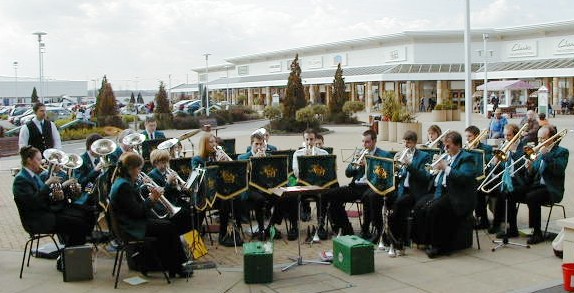 Here we are at the beginning of the session at The Yorkshire Outlet shopping centre in Doncaster. We were able to enjoy the sunshine which lasted throughout the day, by arranging the band out in the open air.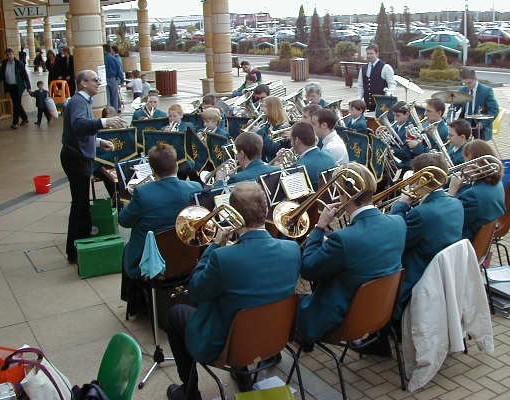 Now fronted by Graham, our conductor and musical director, we are well into the first session of the day, watched by the shoppers who have come to the outlet to make savings in all the stores.
May 1999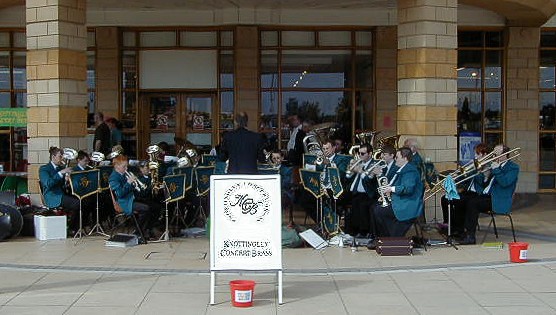 Back again on May 7th, we were located directly under the Yorkshire Outlet tower this time, which provided an improved sound as the roofing over our head kept the music from simply disappearing straight up into the sky. By the end of the afternoon, we had gathered an appreciative audience of shoppers, who took time out from the local shops to sit in the warm sun and listen to our music.

We were also delighted to have Emma and David Brown join us for their first performance in public. They had both been attending the Saturday morning practice sessions, and Graham thought the time was right for them to join the full band on this occasion.
---
---
Page updated: Sunday 09th May 1999.