---
Rotary Club Charity Event
Some pictures from the very successful Fund Raising charity event organised by the Rotary Club.
The Rotary Club dedicated this event to one of their members, Reg Plumpton, who was instrumental in getting the event initiated, but who sadly past away at the end of 1999. But as the Rotary Club said, he would have agreed that, "The show must go on". Reg had requested that KCB play a piece called "Solemn Melody", and indeed we included this as part of our repertoire that evening. I believe we all put on a performance that he would have been proud to have been associated with.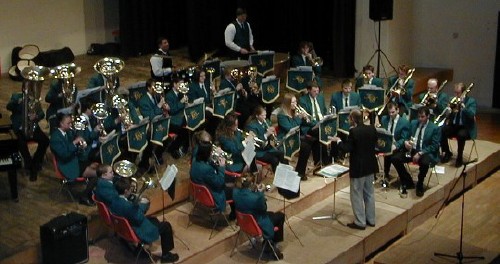 The band near the beginning of our first session of the evening, performing "Solemn Melody" as had been especially requested by Reg Plumpton.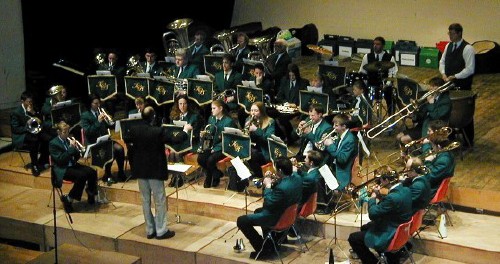 In full swing during our second spot of the evening, performing a piece specially bought for the band by one of our long standing supports, who was there on the night to enjoy its first public performance. The piece is well known as the tune used as a background to the London Marathon entitled "The Trap".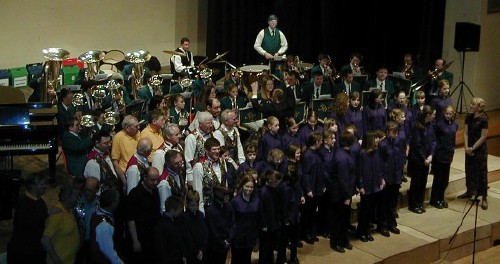 As normal for these Rotary Club events, we followed their tradition of ending with a rousing rendition of "You'll Never Walk Alone". The Ackworth Youth Choir in their new uniform for 2000, and the Spirit of Harmony Barbershop Chorus in their splendid waistcoats, joined us on stage to lead the singing, whilst Graham did a sterling conducting job, bringing it all together, whilst tightly packed in the centre of the stage!
---
---
Page updated: Sunday 2nd April 2000.